This is your chance to photograph the Brown Bears of Kodiak Island, Alaska during the peak of the salmon run. Kodiak Bears are regarded as the largest brown bears in the world and we will have access to some of the best photo locations on Kodiak. You will have endless opportunities to photograph bears fishing for salmon and in many cases bears will be very close (the bears are preoccupied with gorging themselves on salmon and don't see humans as a food source...we will also have an armed guide with us at all times). On four days we will take a float plane to remote areas of the island where we will likely be the only people there. On two days, we will take a boat to photograph bears and other wildlife such as whales, seals, sea lions, otters, deer, fox, puffins and other birds.
We will be staying at a deluxe lodge on one of Kodiak Island's bays where the views are magnificent and the food is even better. The lodge has access to world class salmon streams and a hundred miles of shoreline where bears feed. We also may have the opportunity to photograph bears at picturesque geographic harbor where the bears are right on the beach - digging for clams, playing in the water and stalking the estuaries for fish.
These entertaining bears wading streams and catching colorful salmon is one of nature's most amazing sights. This is your chance to photograph these spectacular bears
PHOTOS FROM THE 2018 KODIAK BEAR ADVENTURE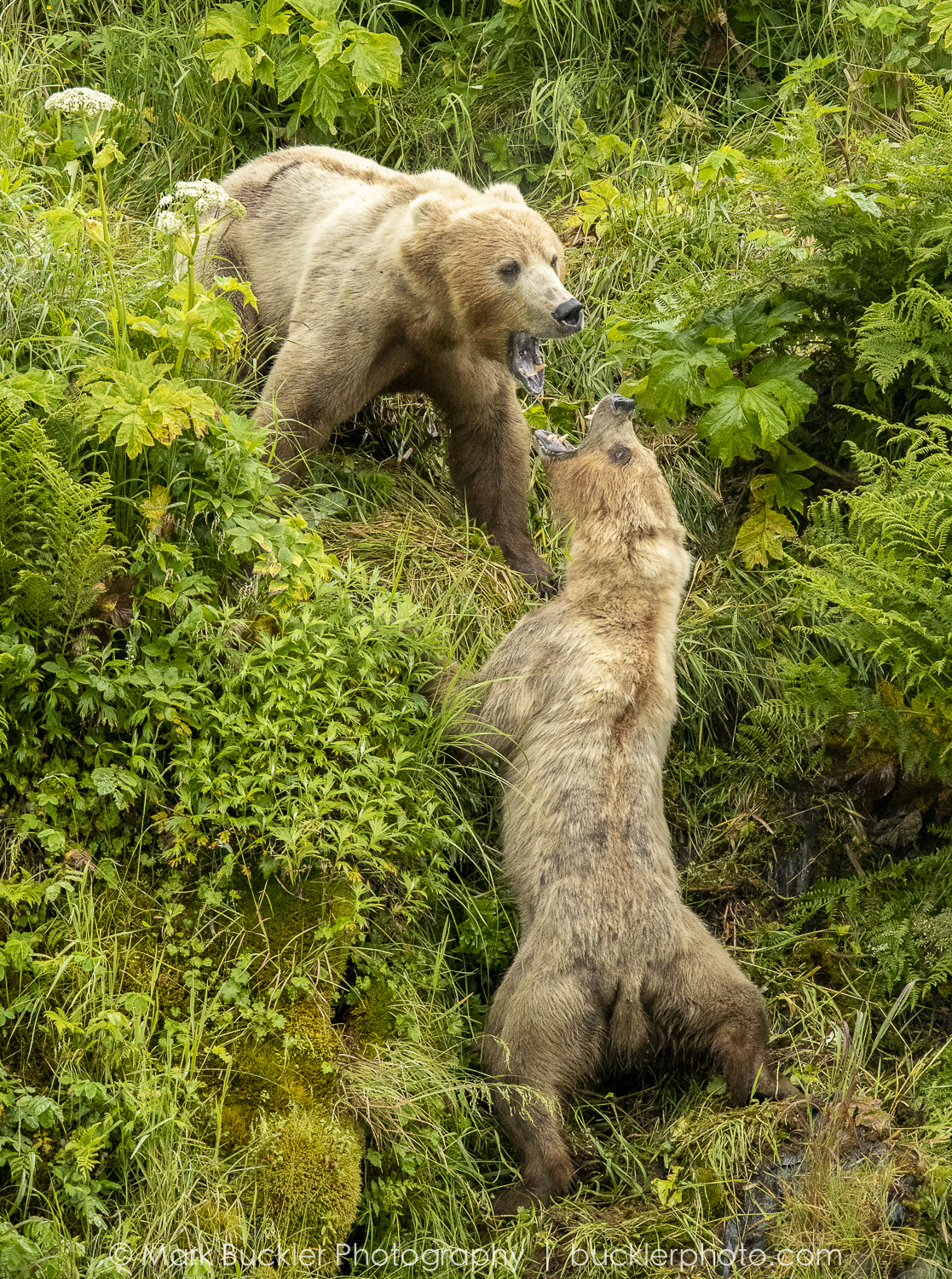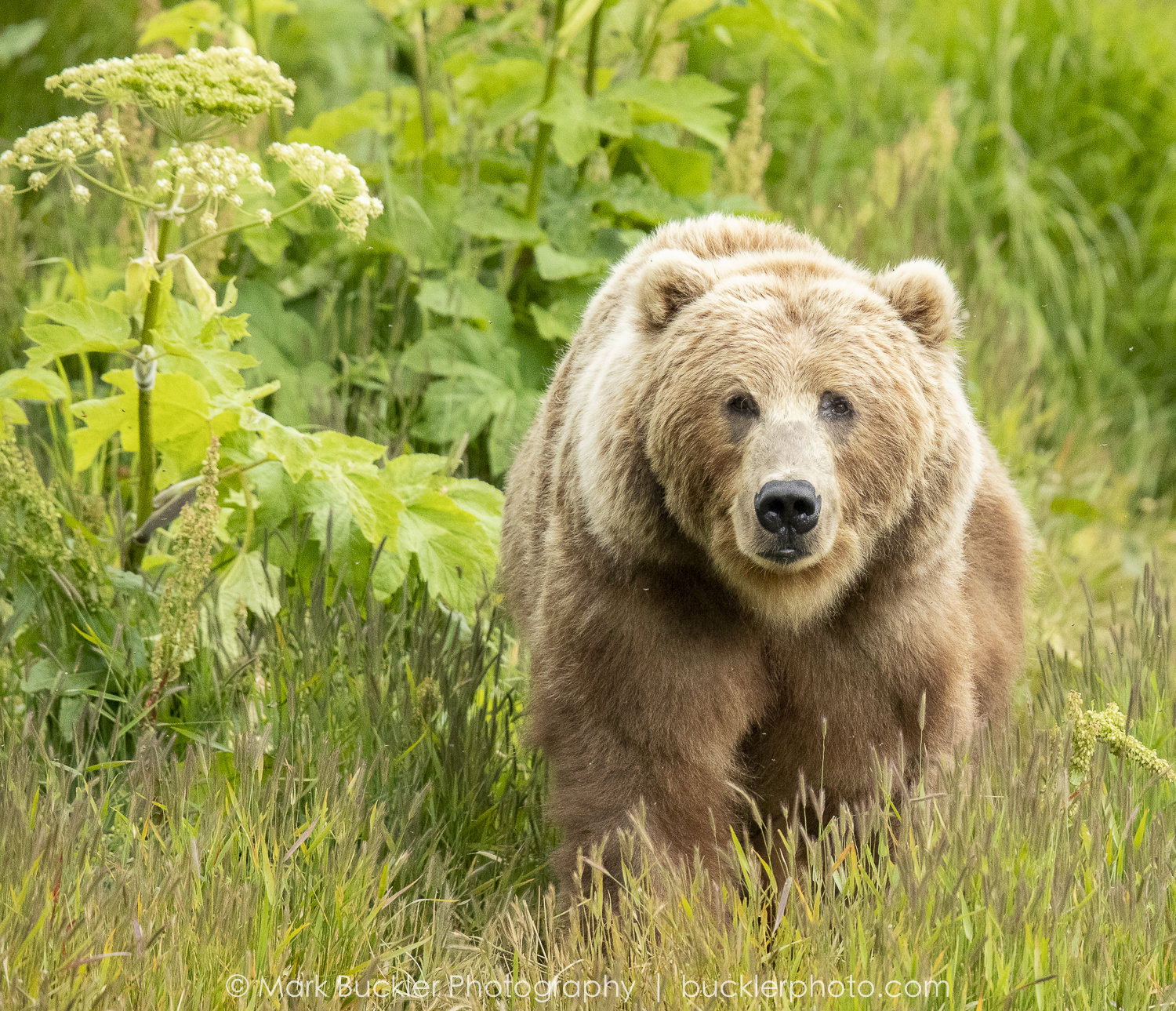 Kodiak Bears
July 11-18, 2019
General Itinerary:
Day 1 Meet in Kodiak, AK and take a late afternoon flight from Kodiak airport to the lodge on Kodiak Island
Day 2 Bear Photography
Day 3 Bear Photography
Day 4 Boat Trip to photograph bears, puffins, seals, whales and other wildlife
Day 5 Bear Photography
Day 6 Bear Photography
Day 7 Boat Trip to photograph bears, puffins, seals, whales and other wildlife
Day 8 Depart Lodge in the morning via charter flight to Kodiak

Workshop Fee: $7195
Limited to 8 Participants
WHAT'S NOT INCLUDED:
AIRFARE/TRANSPORTATION to Kodiak, AK

AIR TAXI from Kodiak to Lodge (round-trip is $370)

TRAVEL INSURANCE
I highly recommend purchasing travel insurance

GRATUITY for lodge staff
WHAT'S INCLUDED:
7 NIGHTS ACCOMMODATIONS
Deluxe bayfront lodge with views from every room

ALL MEALS

PHOTO INSTRUCTION
Extensive field instruction will be tailored to the needs of each participant

4 FLY-OUTS (on a float plane) for day-long bear photography

2 BOAT TRIPS for day-long photography of bears and other wildlife

GUIDE SERVICE
A guide will accompany us on all of our excursions

WADERS and HIP BOOTS
WHAT YOU CAN EXPECT TO PHOTOGRAPH: (see photos above from last year's trip)
KODIAK BEARS (the largest brown bears in the world) fishing for salmon!

BIRDS - two species of puffins (horned and tufted), bald eagles, black oystercatchers and more

MARINE MAMMALS - whales, seals, sea lions, sea otters

LANDSCAPES of remote mountainous regions of beautiful Kodiak Island and gorgeous sunrises outside the lodge.

OTHER MAMMALS uch as foxes and deer
PHYSICAL REQUIREMENTS:
On some days you may need to walk 2-3 miles over uneven terrain (usually hiking paths or shorelines) with your camera equipment

You will need to get into and out of a small plane (float plane) and be comfortable flying in a small plane.

You may need to wear hip boots or waders and walk through gravel-bottomed streams (waders and hip boots are provided at no charge)

You should be comfortable with riding in a boat for 6 hours (boats have a bathroom and shelter from the elements)
Please visit the "General Workshop Information" page to see what sets my workshop experiences apart from the rest.
REGISTER ONLINE FOR THE TRIP
PAY DEPOSIT BY CHECK or ASK QUESTIONS